Thanks for visiting! Please join the mailing list for news on products and sales!
Sweet Hitchhiker Lingerie is a female-owned and operated independent business. We are based in Brooklyn, New York, and are lingerie-obsessed! You can read a little more about our story here.
Beyond basic undergarments which we all need, we seek to bring people of different shapes, styles and sizes amazing lingerie pieces that make you feel great, and that you'll hopefully have for a long, long time.
We take a modern, fashion-forward approach to lingerie. The collection is carefully selected and while we're still growing we'd love feedback on labels and styles that you'd like to see available on sweethitchhikernyc.com.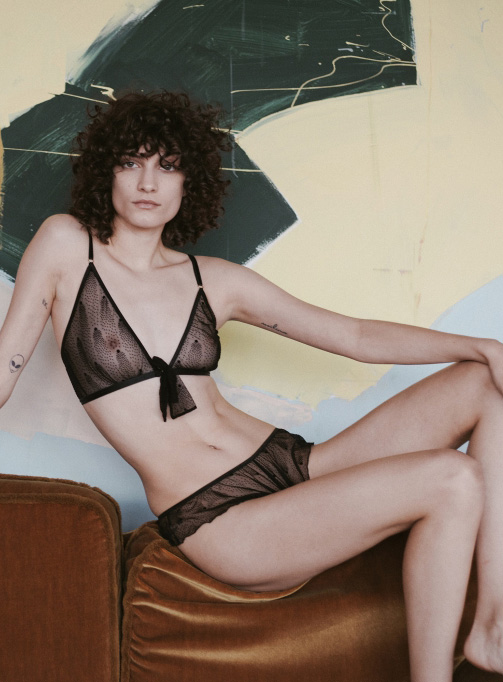 Return Policy:
It is our goal that you be 100% satisfied with your purchase from Sweet Hitchhiker Lingerie, but we understand that shopping online can sometimes be tricky. That said, we encourage you to contact us with any questions regarding fit and sizing before completing your purchase. We will do our best to get back to you quickly with detailed answers. If you must return an item for any reason, the following criteria must be met:
• Purchased less than 30 days ago
• Has not been worn, altered or washed
• Remains in original packaging with all tags and liners attached
• Must have original receipt
• Underwear has been tried on over your own
You will be responsible for shipping charges unless you have received damaged goods. If you have received damaged goods, please contact us and we will respond with the appropriate return instructions.
No returns will be issued for merchandise on sale.
Used merchandise cannot be returned.
Please contact us as soon as you feel you need to return the item so that we may discuss your options. Sweet Hitchhiker Lingerie reserves the right to refuse a return if it is deemed that the above criteria was not met.
Sizing information can be found on this page:
Lingerie Care
To keep your delicates in the best possible shape you should hand wash them gently in a lukewarm water bath and use a lingerie-specific detergent. A few gentle swirls and a decent soak (20 minutes) should suffice, and then you should gently press or lightly squeeze water from items before laying them flat (or on a laundry drying rack) to dry. Following these tips will protect the delicate fabrics and careful construction of your garments.
Prompt Shipping
We usually ship within 1-3 days upon placing your order. Please Contact Us if you do not receive your order after 2 weeks of placing your order.
Secure Online Checkout
Shop with confidence. Safe, easy checkout.
Join Our Mailing List
Stay up to date with our latest promotions, sales, and news: Click Here to join our mailing list.