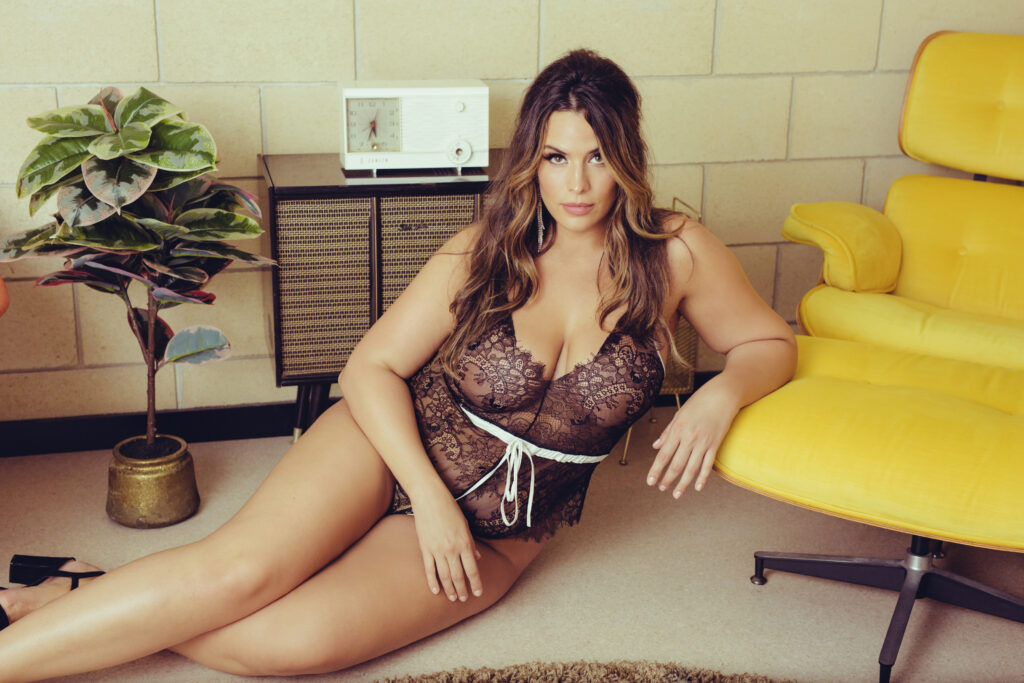 Owner and head designer Kristin Bear and I connected on Instagram in early 2020, and met in person soon thereafter at the lingerie tradeshow Curve here in NYC. She enthusiastically showed me the intro Kilo Brava collection and I was enamored! The delicate but interesting lace, hand-rendered prints and flattering cuts won me over along with KB's retro-inspired aesthetic; I knew it was a perfect fit for Sweet Hitchhiker!
KILO BRAVA offers ethically made, attainable luxury for the modern woman while providing versatility by blurring the lines between intimate apparel and ready-to-wear. All about comfort, sensuality, and the exquisitely feminine, KILO BRAVA is designed for the woman who knows her worth and loves gifting herself with special pieces. We'd like to offer all women the opportunity to nurture and embrace the muse within themselves. From dreamy, hand-rendered lace and embroidery to ultra soft luxe fabrics, each item is a treasure. All materials are sourced for their hand-feeling, beauty, and comfort, and we sought out top factories and artisans known for their handcrafted and time-honored techniques.

We are dedicated to sustainable, thoughtful design & development. Our products are purposeful, which for us means they are unique, eco-friendly where possible, easy to care for, and size-inclusive. We produce every single style in sizes S-XXXL which translate to a size 4-22.
The hand-rendered prints Kilo Brava has offered each season have proved to be fan favorites and offer lingerie lovers unique pieces that stand out, can be worn as outerwear in many cases and are just unbelievably affordable!
Kilo Brava's Spring 2021 selections are particularly joyful after a long year and winter, and the prints and colors are most welcome! The two-toned blue embroidery on the signature butterfly lace has our hearts fluttering, and the super-cute garter belt skirt is a perfect addition to this season's sets! Delicate butterflies adorn the cult-favorite cowl neck slip (which doubles as a dress when we're brave and have occasion for a dress these days!) and bring both color and femininity. We were also happy to see more feline prints this season and the jaguars on the lounge brief and lounge bralette don't disappoint! Here's what KB had to say about this season's selection:
Kilo Brava's Spring/Summer 21 Collection was designed and developed over a year spent mostly inside. Feeling the need to break free, the butterfly is a theme woven throughout. Cocooned inside and emerging as our beautiful selves as we learn to fly again. We were also inspired by 60's & 70's styling, and drew inspiration from The Valley of the Dolls. Gorgeous colors, textures, and easy put-together looks inspired much of the Collection from the hand-rendered multicolor embroidery to the prints on satin charmeuse, modal, and bamboo sleepwear. Vintage lingerie also inspires some of the retro silhouettes in the high leg bodysuits, and corsets. The concept of mixing sexy with sweet is also woven throughout the collection, making these pieces versatile and so fun to wear.
Kilo Brava is also proud to offer a size range that is more size-inclusive than many traditional lingerie brands-ranging from S-XXXL (or sizes 4-22) and is setting a serious standard for adorable yet sexy, affordable and size-inclusive lingerie and loungewear! We are loving the prints, fabrics and cuts that KB creates and can't wait to see more!